<!+++++++++++++++++++++++++++++++++++++++++++++++>
Liberty Ship USS Don Marquis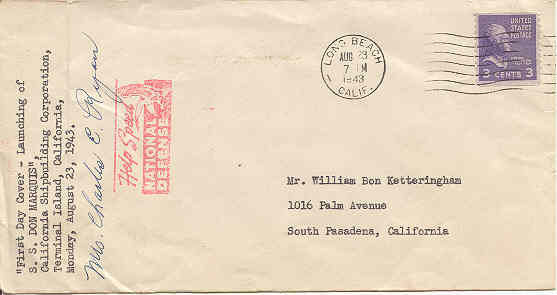 LIBERTY SHIP USS DON MARQUIS (IX-215) LAUNCHING COVER
Built by California Shipbuilding Corporation, Terminal Island California.
Launched Monday, August 23, 1943, at Long Beach, California.
Sponsor: Mrs. Charles E. Ryan
USS Don Marquis (IX-215) was launched by the California Shipbuilding Corporation, Los Angeles, Calif., on 23 August 1943. She was acquired and placed in service by the Navy on 31 May 1945. She was employed as dry floating storage in the Pacific until returned to the War Shipping Administration on 28 November 1945. USS Don Marquis was stricken from the Navy Register on 5 June 1946.
USS Don Marquis (a Liberty hull vessel) was 441 feet long and 56 feet wide. Her three-cylinder, reciprocating steam engine, fed by two oil-burning boilers produced 2,500 hp and a speed of 11 knots. Her 5 holds could carry over 9,000 tons of cargo, plus airplanes, tanks, and locomotives lashed to its deck. A Liberty could carry 2,840 jeeps, 440 tanks, or 230 million rounds of rifle ammunition. Liberty ships were named after prominent (deceased) Americans, starting with Patrick Henry and the signers of the Declaration of Independence. 18 that were named for outstanding African-Americans. Libertys carried a crew of about 44 and 12 to 25 Naval Armed Guard. Some were armed with: One 4 inch stern gun Two 37 mm bow guns Six 20 mm machine guns Liberty ships carried 75% of the cargo used by our armed forces in World War II. They were essential to victory.
When the Liberty ships were first put into production, it was thought that if they made it to their destination they had paid their way, making it back would be a bonus. As it turned out, they became the work horse of the American Merchant Marine. There was a time when you could find them in every sea of the world. They carried the cargo that made our fighting men the best supplied in the history of warfare. In great convoys they fought their way to England, Russia, Africa, and the islands of the Pacific. The first Liberty ship commissioned, prior to Pearl Harbor, took 244 days to build. Henry J. Kaiser, whose shipyards built one-third of all America's ships in World War II, cut that to 72 days in May of 1942. By August of that year, construction time was down to 46 days. As publicity stunt, one of his shipyards built a ship fron scratch in five days. However the average time was about six weeks.
On 26 September, 1944, near Manus, New Guinea, while carrying highly explosive ammunition, USS Don Marquis was rammed at night by a tanker, burst into flames and began settling by the head. She was assisted by USS Donaldson DE-44 and USS Crowley DE-303, which were operating in the area.
In the resulting chaos, Allen P. McGowan, Jr., Third Engineer, went below to the engine room and when he was certain the water pump to the deck outlets was in operating condition, he returned on deck. Finding the ship abandoned by practically all hands, he remained on board and assisted the seriously wounded to improvised rafts. McGowan then went over the side and successfully towed one of the rafts carrying five injured seamen, until rescued. For his performance, McGowan was awarded the Merchant Marine Meritorious Service Medal on September 10, 1946. McGowan lived in West Hollywood, California.
In the same action, Richard Arthur Schaffer, Deck Engineer, turned on the steam smothering system, rendered first aid to the seriously injured men and assisted in lowering them to improvised rafts. Finally he went over the side and further aided helpless and panic stricken survivors to board life craft. For his performance, Schaffer was awarded the Merchant Marine Meritorious Service Medal on July 7, 1946. Schaffer lived in Burlingame, California.
Sources:
http://www.history.navy.mil/danfs/d5/don_marquis.htm Official History of USS Don Marquis IX-215
http://en.wikipedia.org/wiki/USS_Don_Marquis_%28IX-215%29
http://www.navsource.org/archives/09/46/46215.htm
http://www.hazegray.org/danfs/ix/ix215.htm
http://www.usmm.org/msm.html
http://www.history.navy.mil/danfs/c15/crowley.htm USS Crowley assisted USS Don Marquis after she was rammed.
http://www.history.navy.mil/danfs/d5/donaldson.htm USS Donaldson assisted SS Don Marquis after she was rammed.
According to
http://www.usmm.org/sunkaz.html#anchor9759, USS Don Marquis was declared a total loss on 27 September 1944.
<!+++++++++++++++++++++++++++++++++++++++++++++++>